Sodomy and Beastiality
Manny Pacquiao being roasted for his pro-Bible commentary on sodomites.
So-called gays want the rare animals who "exhibit homosexual behavior" to prove that the homosexual human behavior is natural. Unfortunately, there are a few things wrong with this thinking.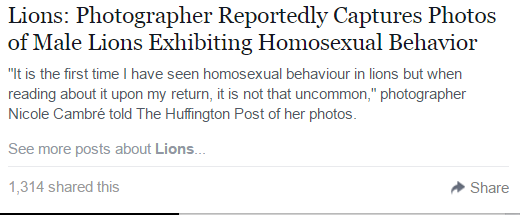 First, it is revealing the humanistic, evolutionary belief that we are nothing more than animals who live and die for a while. Except we're more than that. We're accountable for some things.
Secondly, they're not going to highlight the thousands upon thousands of animals who do not exhibit this behavior. They're going to point out the odd couple. you know that's what that show "the odd couple" was really about, don't you? If not, I'm telling you here... The exception doesn't negate the rule. It proves the rule