Philippians 2:6
Met a man who laughed at the gospel of Jesus Christ. He said, "Men have a desire to make themselves better than they really are. They want to worship something higher. I don't see any difference between religions."
The man is correct in a way, because everyone worships something. There truly are no atheists.
A so-called atheist is really saying, he rejects the God presented to him, but he has chosen another god. Environment, animals, sports, film and television, career, education, collecting… anything that has our hearts more than the Lord is our god, our idol.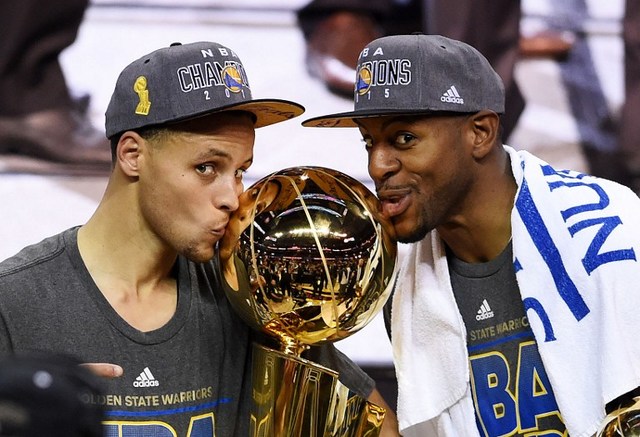 Professing Christian celebrities like Steph Curry often praise God in victory, while kissing a golden idol: Jason Miller/Getty Images/AFP
However, the born again individual knows that he is not anything, without God. He understands that Jesus Christ is higher than the highest.
That's the difference between saved, true religion, and what the world recognizes (on a carnal, natural level) as "religion." Go from Mormonism to Hinduism to Catholicism to any other form you wish; all of them put works as a requirement to pleasing God, or at least do not recognize the fullness of the Godhead in Jesus.
The Christian who is using a King James Bible as his standard knows that it only takes faith in what Jesus did for us on the cross. This is a basic New Testament principle that many modern Christians have never been taught. Why? The Christian's spiritual sensibility is so polluted by corrupted bible versions, secular media, films and television that they don't know what the Bible actually says. And when they do know, they pick which parts they believe, rather than adjusting their beliefs to fit the KJB.
When we do read the Bible, it's important that we are reading God's Word… not man's editing of that Word.
The New International Version committees have continually twisted the Holy Bible, not to make it easier to understand, but to appeal to many. The NIV edits Philippians 2:6:
King James Bible: "Who, being in the form of God, thought it not robbery to be equal with God:
New International Version: "Who, being in very nature God, did not consider equality with God something to be grasped,"
Verse 5 makes it clear that this Scripture is speaking about Jesus Christ, "Let this mind be in you, which was also in Christ Jesus:"
The NIV goes 180 degrees the opposite direction of the truth by saying that Jesus couldn't grasp equality with God.
The Bible teaches that Jesus is not only equal with God, but Jesus is Almighty God. In fact, Jesus self-proclaimed Himself as Almighty God in Revelation 1:8, "I am Alpha and Omega, the beginning and the ending, saith the Lord, which is, and which was, and which is to come, the Almighty."
Compare more verses! click below...